When I started my career in journalism in Finland in the mid-1980s, I was warned never to use the term huijaa, which means to cheat, scam or deceive. "Don't ever use this word unless you want to find yourself in court for defamation," my former colleague from Apu magazine warned. 
About ten years later, tabloid Ilta-Sanomat, which is probably one of the biggest culprits in spreading racism and bigotry against groups like Somalis, used the term huijaa in its April 27, 1994, billboard below that reads: "Somalis deceived to get asylum."
Migrant Tales has published a number of these billboards. They are proof of how the Finnish media, in particular, tabloids like Ilta-Sanomat, labeled and victimized groups like Somalis, Russians, Estonians, minorities like the Roma, refugees, and migrants in general.
Even if the years should teach you new things, Ilta-Sanomat continues to publish misleading and racist stories about asylum seekers. The one below is a billboard released in October 2015 that claims that this year Finland will receive 10,000 "illegal refugees." As everyone knows, there is no such thing as "illegal" refugees.
Taking into account the racist nature of the stories that were published and which impacted negatively the lives of migrants and minorities in this country up to today, it's high time that publications like Ilta-Sanomat apologize for what they wrote over twenty years ago. Many stereotypes continue to exist thanks to what they wrote and keep on writing about migrants and minorities.
Will Ilta-Sanomat hide in its silence and play dead to this request or will it bite the bullet and do what is right?
Hopefully, other migrant and anti-racism associations in Finland will put pressure on the tabloid to do what is right.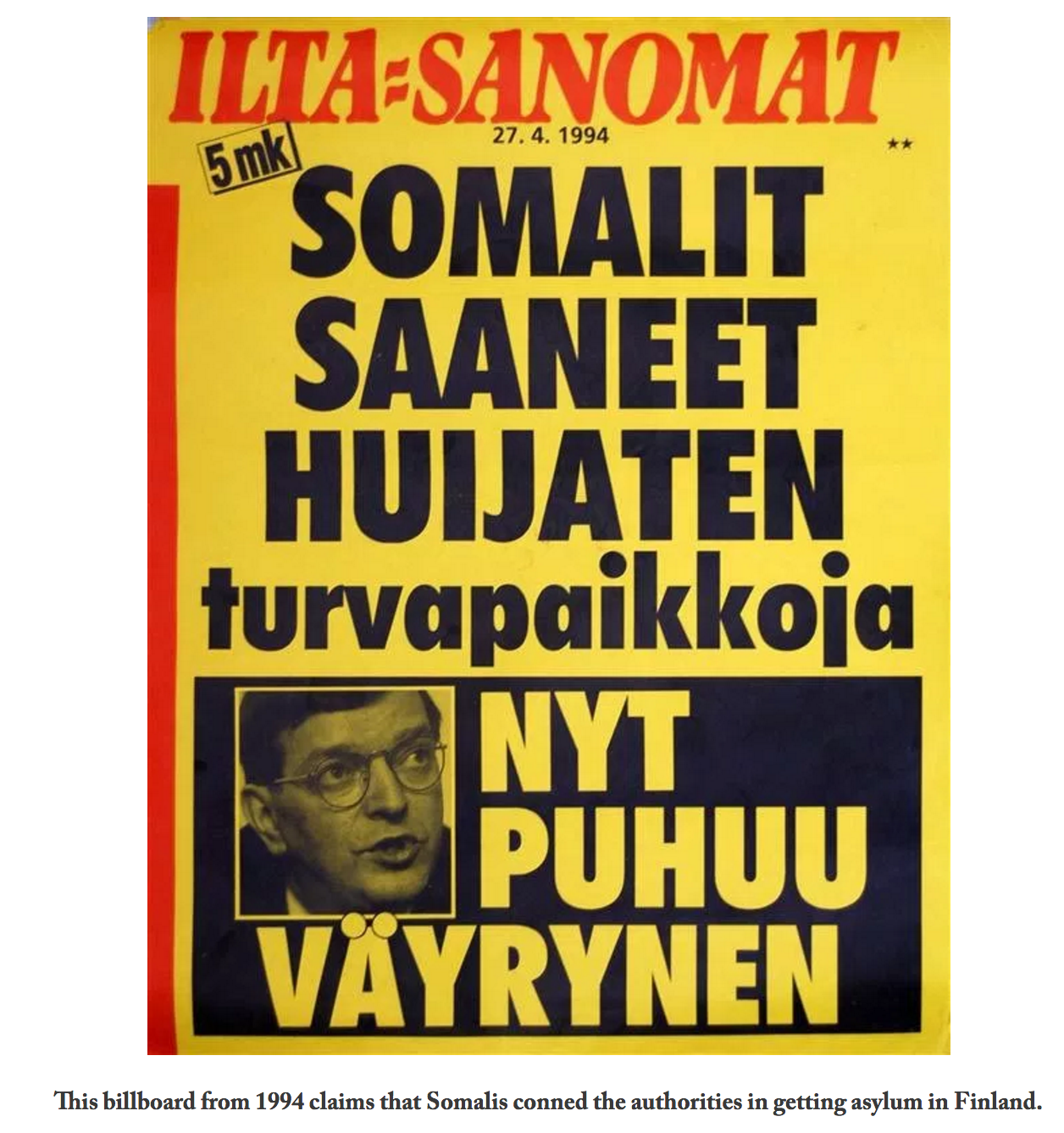 This billboard states in bold letters that the Somalis won't leave Finland.
Refugees were a frequent target of tabloids like Ilta-Sanomat. This billboard claims that the mafia came to the country disguised as refugees.
If you want to find more Ilta-Sanomat billboards, you can search for them in Migrant Tales by writing "Ilta-Sanomat."