Katie Hopkins, the former columnist who got the boot from the Daily Mail and who has had to pay exorbitant sums for defamation, visited Oulu this week and was the special guests of Tiina Wiik and Junes Lokka, both who have made a name in the same way as Hopkins – by spreading bigotry and Islmophobia.
The Washington Post devised a new rating, the Bottomless Pinocchio, when fake statements are repeated over and over again. President Donald Trump is a prime example of the latter. Others that win Bottomless Pinocchios are Hopkins and the Perussuomalaiset* party.
Tabloids like Iltalehti not only show their shoddy journalism as in a column published by Mika Koskinen,
Erna Bodström, a migration researcher and human rights activist, exposed on Twiter Koskinen's mistakes.
Sakari Timonen, one of Finland's most popular columnists, described Koskinen's column as "crap that attracts a lot of flies."
---
Read more about the Bottomless Pinocchio

here

.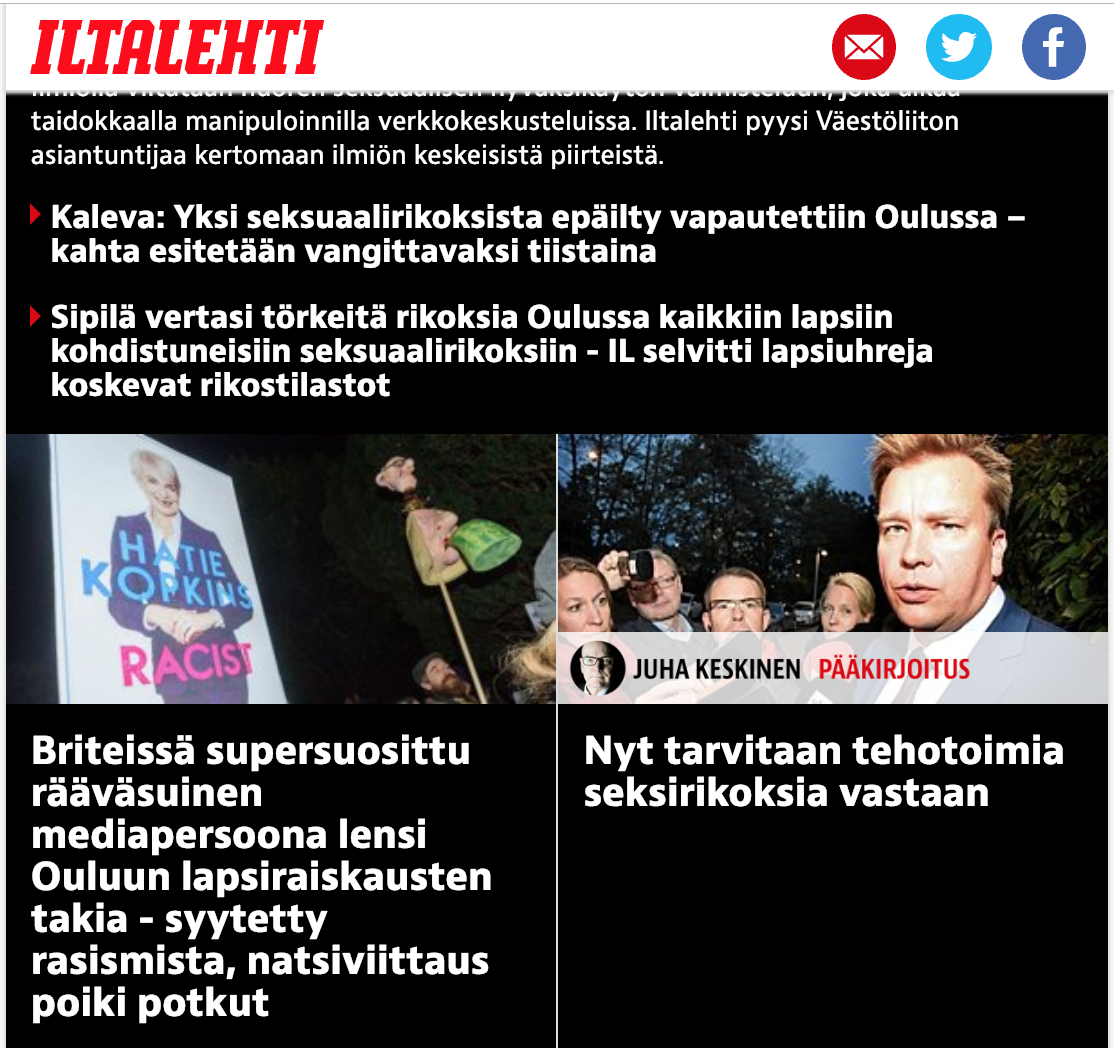 Iltalehti is a tabloid that does not hide its 

adoration

for racists like Katie Hopkins. Here is a story about her visit to Oulu. The headline reads: "Super popular foul-mouthed media personality flew to Oulu to look into the rape of children – [she's been] accused of racism and  Nazi sympathies led to her firing [in May 2017 after she was shown the door from LBC for Tweeting 'a final solution' after the Manchester Arena bombing]."
---
Hopkins Tweets that she tried to meet the mayor of Oulu, Päivi Laajala, without success.
What other "merits" does she have?
In 2016, Hopkins had to pay £150,000 to a Muslim family whom she had falsely accused of extremist

 links.

In a 2017 

libel

 case, Hopkins paid £24,000 in 

damages

 and £107,000 in 

legal costs

 to the food writer 

Jack Monroe

 after making defamatory remarks on Twitter.

Later in 2017, 

Mail Online

 paid substantial damages and legal costs to a teacher about whom Hopkins had made false claims.

She got fired from the Daily Mail when her contact was not renewed.

Hopikins joined the Canadian 

The Rebel Media,a far-right and Islamophobic website, 

in January 2018.

Publishes video with the far-right Finnish duo Tiina Wiik and Junes Lokka, a native of Morocco whom she called "a fantastic hero and gentleman."
* The Perussuomalaiset (PS) party imploded on June 13, 2017 into two factions, the PS and New Alternative, which is now called Blue Reform. Despite the name changes, we believe that it is the same party in different clothing. Both factions are hostile to cultural diversity never mind Muslims and other visible minorities. One is more open about it while the other says it in a different way. 
A direct translation of Perussuomalaiset in English would be something like "basic" or "fundamental Finn." Official translations of the Finnish name of the party, such as Finns Party or True Finns, promote in our opinion nativist nationalism and racism. We, therefore, at Migrant Tales prefer to use in our postings the Finnish name of the party once and after that the acronym PS.