Perussuomalaiset (PS)* MP Vesa-Matti Saarakkala's statement on Seinjäjoki-based daily Ilkka is another clear example of how some politicians, and even the National Board of Education, continue to deny our ever-growing cultural diversity. There is a lot of talk about "multiculturalism" and little action. This leaves us with a hostile message lingering above us: We, white Finns, will decide what cultural traditions will be kept in our schools. We call the cultural shots in this country and don't ever forget it. 
In theory at least, Finland is a secular country. In practice it's far from it.
The debate that took place this spring concerning the suvivirsi, or Summer Hymn, is a case in point. In a show of power and a clear message that Finland isn't ready yet to talk about the role of cultural diversity too seriously, the National Board of Education didn't consider the suvivirsi compromised its guidelines for religious freedom, equality and neutrality.
Some would strongly agree with the conclusions of the National Board of Education.
How could a near all-white National Board of Education have decided differently?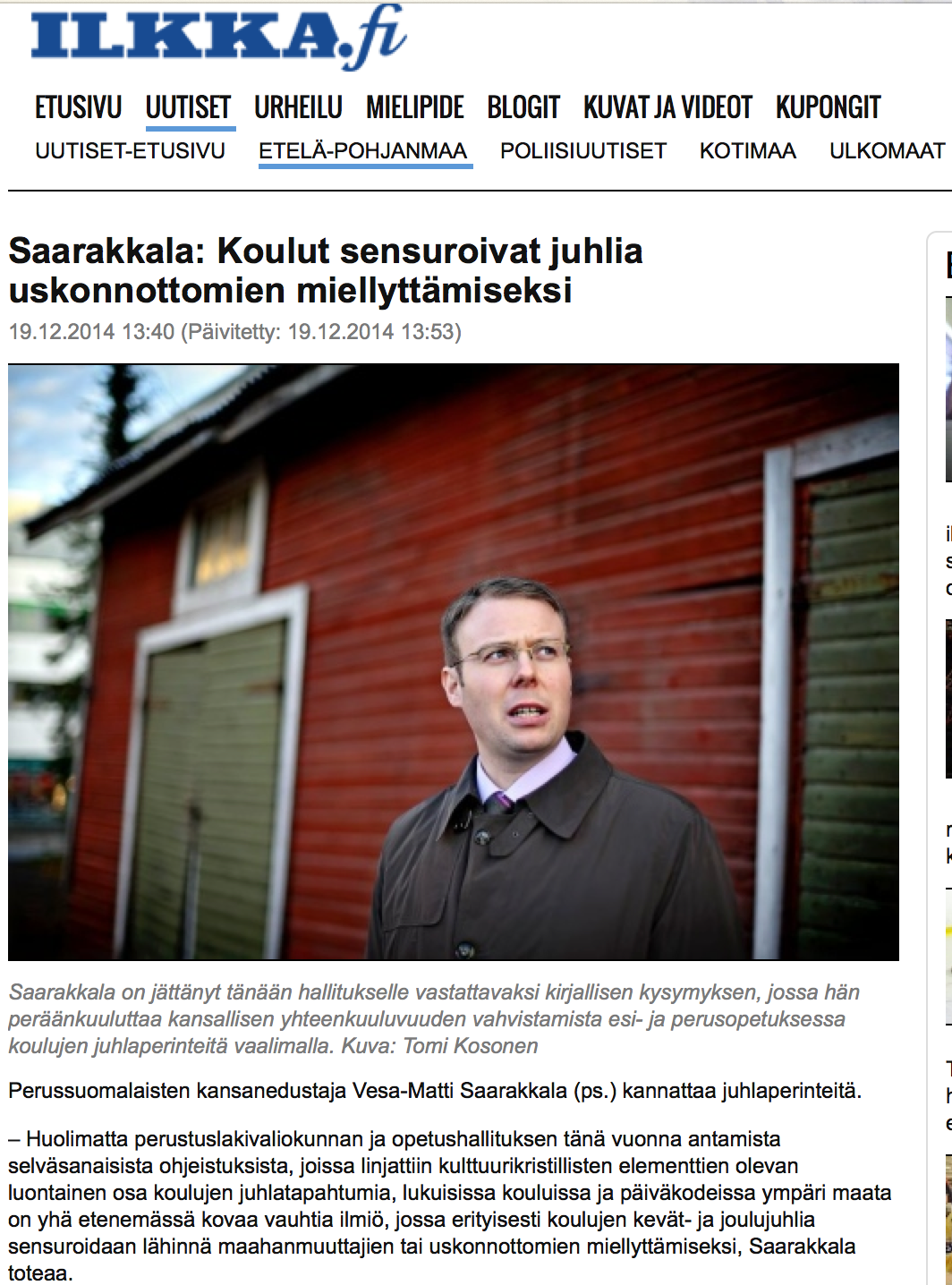 Read full story (in Finnish) here.
The actions and opinions of PS MP Saarakkala, among many others in the populist anti-immigration party, couldn't be further from the truth about schools are not performing traditional Christian events like Christmas because of migrants.
The attempt by Saarakkala to shift attention on the real issue, which is how secular should our schools be, and pinning the issue on migrants and atheists is nothing more than another cheap shot by the PS.
Saarakkala belongs to that group of Finns who see cultural diversity as a threat and illness spreading in Finland. In his world, migrants would never become equal citizens but be relegated to second- and third-class members of society as the eternal hapless mamu or "person with migrant background."
It's clear that the prejudices of politicians like Saarakkala, and policy statements of the National Board of Education to rule in favor of one religion over others, have their days counted. Why? Because they are untenable.
The question is a simple one:
Is our educational system secular? If not, how much space should be given to different religions?

Is our society open and tolerant of cultural and ethnic diversity? If not, which groups will be excluded with our traditions?
* The Finnish name of the Finns Party is the Perussuomalaiset (PS). The names adopted by the PS, like True Finns or Finns Party, promote in our opinion nativist nationalism and xenophobia. We therefore prefer to use the Finnish name of the party on our postings.