One of the most surprising stories that has circulated today in Finland is that Finnbay, a publication which has occasionally used Migrant Tales as a source, is a fake site, according to a tweet by Hannu Himanen, Finland's ambassador to Moscow.  Why is the foreign ministry so jumpy about what Finnbay publishes on the Ukraine crisis and its impact on Finland?
The answer to that question is pretty obvious. If you consider that large US media corporations like NBC are using Finnbay as a source then the matter takes a totally different dimension.
Who is Finnbay? From the few talks I've had over the phone in the past with the editor, it appears to be a publication that covers Finland and which is trying to become profitable. Thanks to all the publicity that Finnbay got on Sunday, that may be now possible.
Having reported on Finnish-Soviet affairs for publications like the Financial Times and others during the 1980s and early 1990s, the reaction of the foreign ministry to what Finnbay reported sends deja vu chills up my spine. Back then, the foreign ministry kept a close watch on what foreign journalists wrote about Finnish-Soviet relations.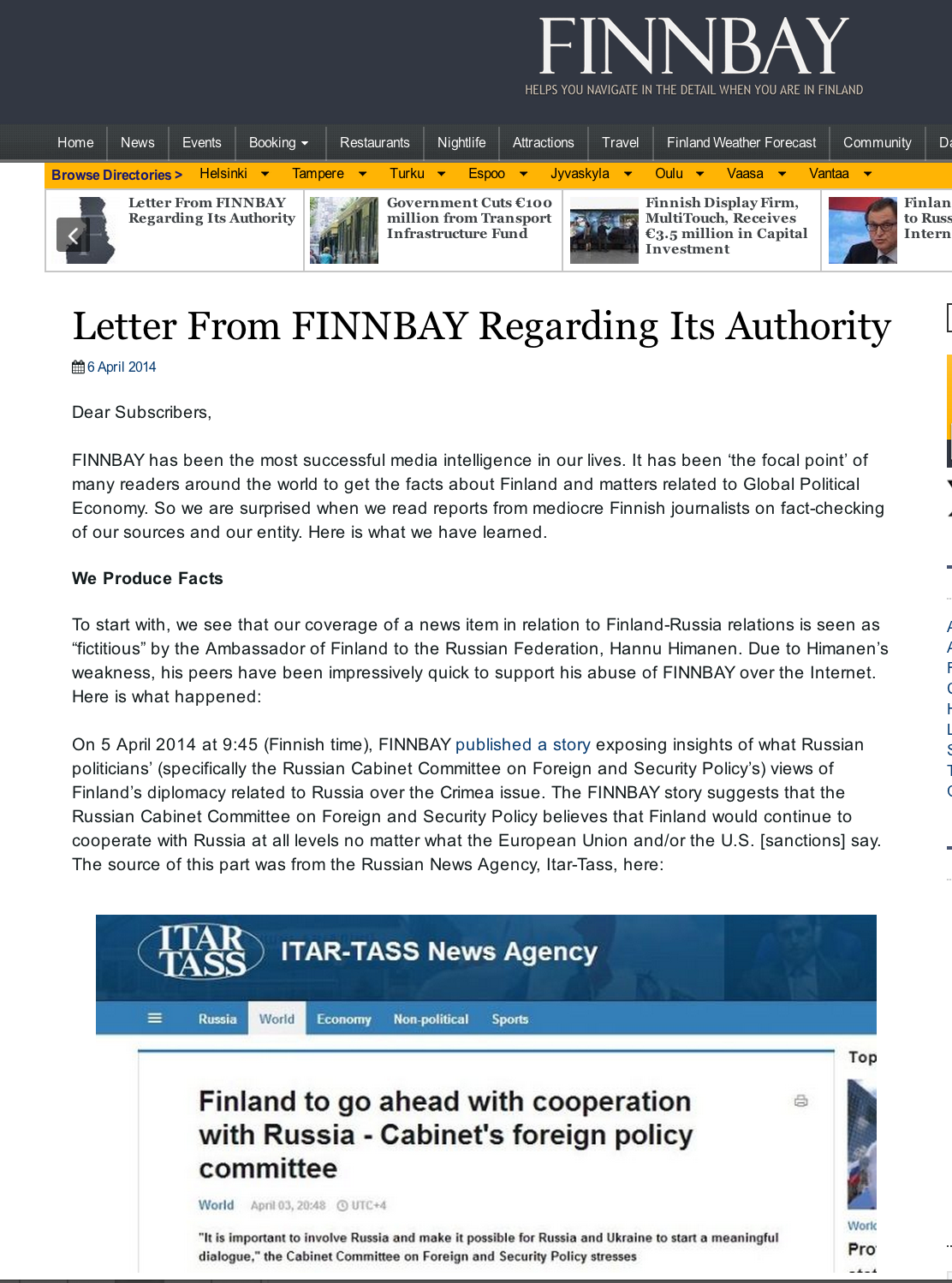 Read full statement here.
Aleksanteri Institute head Markku Kivinen is quoted as saying on YLE in English that Finnbay maybe two things if one looks at the stories it publishes on Russia.  "Either it is fishing for news and visibility or then it's pure propaganda," he was quoted as saying.  "This kind of news is being traded globally because at this point Russian military actions are in the spotlight,"
The Aleksanteri Institute functions as a national centre of research, study and expertise pertaining to Russia and Eastern Europe.
So is Finnbay guilty of publishing propaganda as Kivinen claims? Shouldn't large media companies like NBC know which sources are reliable and those that aren't?
Finland was recently awarded by the World Press Freedom Index as the top country for press freedom. Does a country that respects press freedom single out and attack a publication because it disagrees with what it reports?
It would be good for all parties concerned that the foreign ministry gets to the bottom of the matter as soon as possible.