Has anyone asked what the election in 2011 of 39 MPs of the anti-immigration Perussuomalaiset (PS) party has done to poison the political atmosphere for immigrants and visible minorities in Finland? To show how much in denial we still are in a country, take a closer look at some former and present PS MPs.
Where's the denial?
In the fact that the media and public sees individuals – not the PS never mind its good-cop leader Timo Soini – responsible for the party's racist and Islamophobic remarks.
One former member of the PS, MP James Hirvisaari, who is now a member of the far-right Muutos 2011 party, and one present member, MP Olli Immonen, are making headlines again.
MP Hirvisaari, who has already been sentenced for ethnic agitation, writes on his blog that the state prosecutor is carrying out a preliminary investigation on charging the MP for the same crime.
Hirvisaari, who commented on a blog entry by PS politician Kai Haavisto, wrote that rape was a "national pastime" of countries like South Africa. The Muutos 2011 MP wrote as well that the genetic makeup of certain ethnic groups, like black Africans, encouraged a culture of rape.
Hirvisaari made the comment on a blog written by Haavisto where he suggested that those groups that are prone to commit rape should be chemically castrated before being allowed to live in Finland.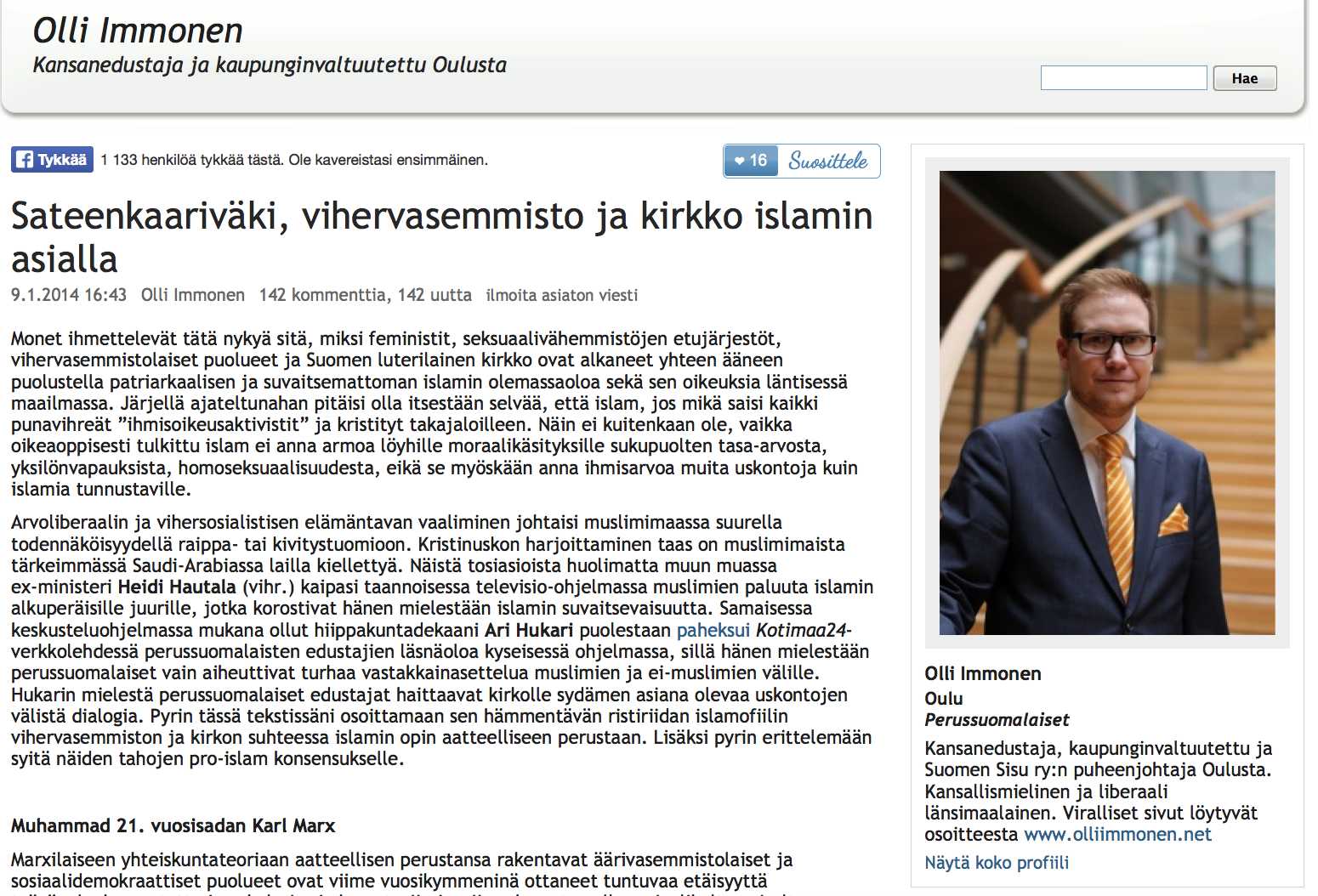 Not only does PS MP Immonen's blog entry is close to 3,000 words long! The length and the topic show clearly the MP's hatred for Muslims and cultural diversity.
MP Immonen, who is the chairman of the far-right association Suomen Sisu, which discourages white Finns from marrying foreigners, claims in his latest blog entry that gays, green-left groups, and the Finnish Lutheran Church are helping Islam to spread in Finland.
Immonen sent in December a written question to parliament that Finland should start classifying people according to their ethnic background.
As in previous cases, the PS and Soini haven't said a word about Immonen's racist views. The PS leader said that Immonen's suggestion to classify people according to their ethnic background "doesn't concern him."
One matter that baffles me about the PS is that they are usually ready to label whole groups as rapists and criminals, but when some Finns look at the anti-immigration party, they are seen individuals.
This reveals, I believe, that deep state of denial that Finland is in concerning intolerance.