Helsingin Sanomat, Finland's largest daily, published Wednesday a story without interviewing a single asylum seeker at the Kolari reception center never mind yours truly about how this story emerged and developed.  
In a news story, journalists should strive to get all sides of the story, which Helsingin Sanomat didn't do. Is a news story a rebuttal or an editorial that takes sides?
It shouldn't be but the question remains: Why didn't Helsingin Sanomat care to interview a direct source, or asylum seekers?
There are a lot of question marks that the news story didn't address. For one, some asylum seekers at the camp allege that the manager Jari Sillantie threatens them by stating that they will get black marks in their records "if they don't shut up."
While we never mentioned that selling clothes, charging 3 euros to go to the gym or getting people to pay 10 euros to go shopping in Rovaniemi is illegal, there are a lot of ethical questions that can be raised. Is it ethical to charge an asylum seeker, who gets 92.30 euros a month, to relinquish 10% of his monthly money on clothes or transportation?
The manager states that they only charge "a small sum" of money for used clothes, ranging from 0.50 euros to 10 euros.
Are 10 euros or less a "small" sum if you get only 92.30 euros a month? What about if they punish you for not attending Finnish class and take away a part of your monthly allowance?
In today's Finland, where xenophobia and hostility towards migrants, especially asylum seekers is present, few if anyone would ask such a question, even if they should.
There is another question that the reporter forgot to ask. Does the reception center have a permit to transport and charge people for rides? If they don't, they cannot charge people for rides.
Ubertaxi has tried this and got itself in a lot of legal problems.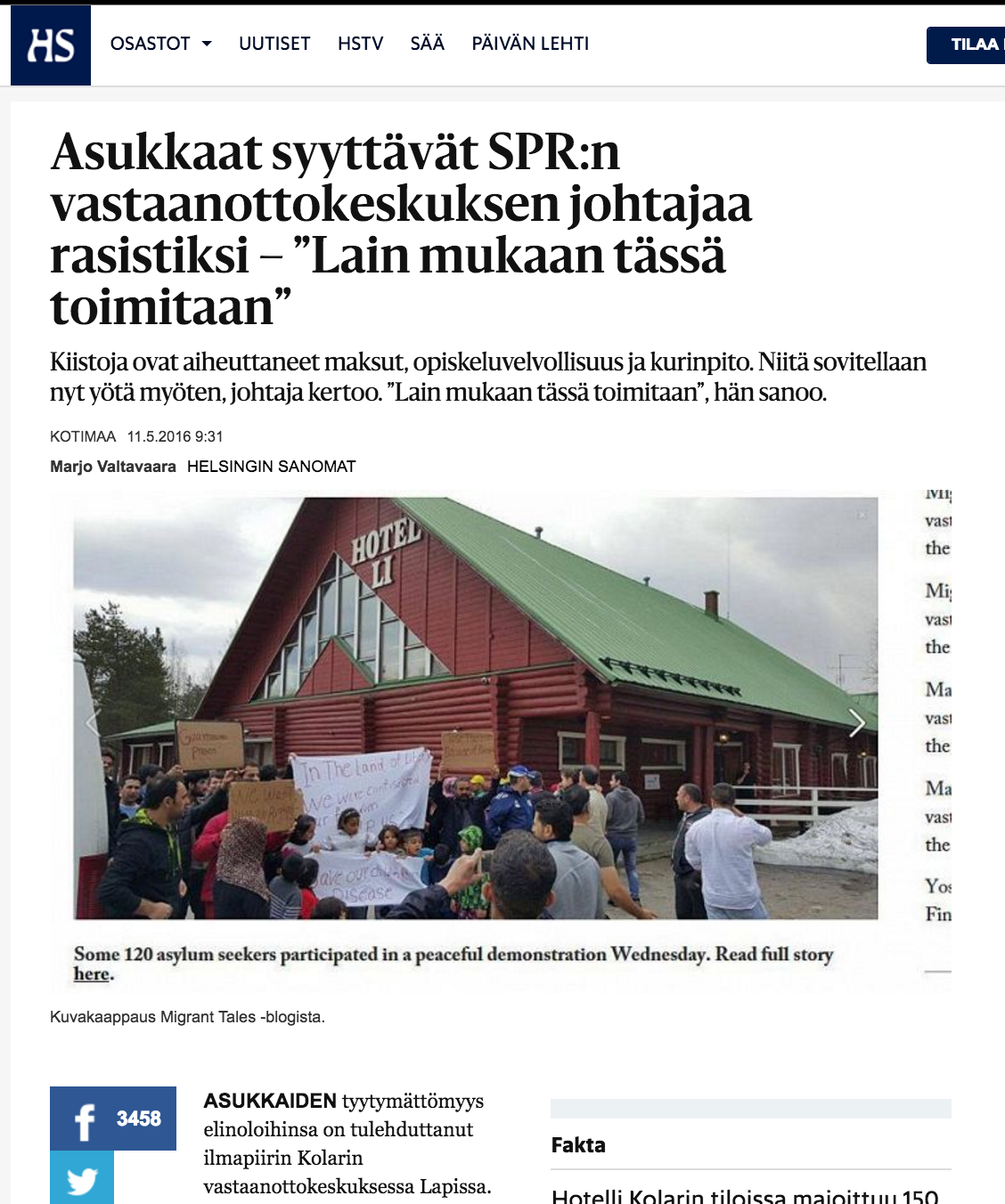 Read full story here.
Apart from some issues like charging asylum seekers with shoestring budgets for used clothes and other activities, one of the biggest questions that the Helsingin Sanomat article didn't ask was why 120 asylum seekers demonstrated Wednesday against the manager?
Stating that it was only the food would be incorrect and suggests that the management doesn't grasp the full picture.
Certainly if there was a demonstration last week, it suggests that there are problems at the reception center that the manager and the management haven't been able to resolve. What role has poor communication played between the management and asylum seekers?
We don't know the answer to the latter because the Helsingin Sanomat article doesn't ask this important question either to the manager.
Our only interest in the stories we've published is "to be a voice for those whose views and situation are understood poorly and heard faintly by the media, politicians and public."
If Migrant Tales has reported some points of the story incorrectly, we have done our best to correct them.
It's important that solutions are found to problems.
We hope this will be the case at the Kolari asylum reception center.