THIS STORY WAS UPDATED
Matias Turkkila, Perussuomalaiset (PS)* newspaper's editor, is well known for his shenanigans and the way he spins the news. If there is one person who, like Iljas Janitskin, has furthered the spread of racism in Finland, that person is Turkkila.
Juha Kärkkäinen is the owner of a company that bears his name. Kärkkäinen has shopping centers in Ylivieska, Lahti, and Oulu. Apart from his stores, the owner has earned a dubious reputation for being one of the most prominent anti-Semites in Finland.
In a critical tweet about a Yle story that discusses Kärkkäinen's moral compass, who was convicted for ethnic agitation, Turkkila alleges that Yle is part of a plan to destroy his businesses.
The radio program talks as well about companies like Fiskars, Finlayson, Otava, Tammi, and Makia that have stopped their cooperation with Kärkkäinen. Others like Fazer continue to supply their products to Kärkkäinen's shopping centers.
Don't businesses have certain ethic standards that they abide by? Is it ok to sell your products in a company that is openly racist and anti-semitic?
An appeals court in 2014 upheld a Ylivieska-Raahe court ethnic agitation ruling against Kärkkäinen for publishing anti-Semitic opinion pieces in Magneettimedia, reported YLE. Kärkkäinen was fined the previous year 45,000 euros for publishing anti-Semitic writings of Adrian Salbuch, Ted Pike, David Duke, and others as well as cartoons that bear a striking resemblance to the former Nazi tabloid, Der Strümer (1923-45).
Despite these facts, Turkkila likes to dabble in conspiracy theories which have helped him make a shady name for himself. Turkkila defends Kärkkäinen because his worldview is the same.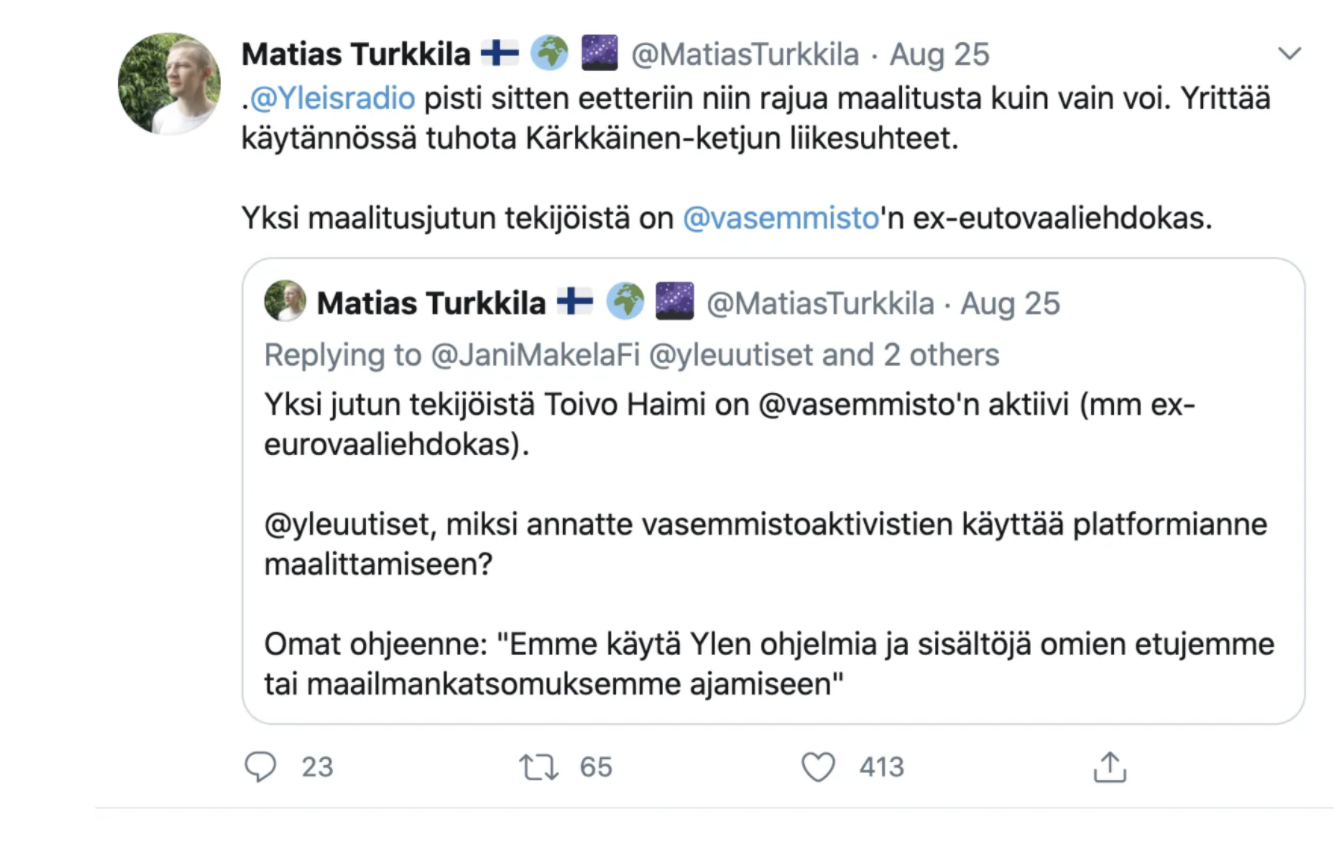 Apart from is anti-Semitic and xenophobic views, Kärkkäinen also believes that Covid-19 is a hoax, 5G is a health threat, and forcing people to wear masks is a form of government oppression.
So what does Turkkila reveal about himself and his party when he defends a questionable person like Kärkkäinen?
A DNA of the person's and party's soul.