Perussuomalaiset (PS) party far-right anti-immigration wing leader, MP Jussi Halla-aho, confirmed that he's not ruling out vying for chairman of the radical populist party, according to MTV3, citing the Subin Enbuske & Linnanahde Crew TV show.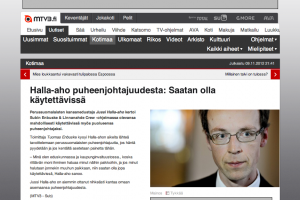 "I'm in parliament and city council because enough people want me in these places," he said, "if they want me in some other place, I could even consider such a request."
Apart from their racism and far-right ideology, politicians like Halla-aho are chronic narcissists, who score brownie points with voters by bashing weaker and more vulnerable groups in society.
The aim of these politicians is simple: do everything possible to hinder integration, acceptance and make life as difficult as possible for Finland's newcomers and visible immigrants.
PS chairman Timo Soini has been a key factor in bringing such politicians to roost in Finland. He has given them a political voice through his party.
I pointed out in a recent blog entry that if I had the opportunity to draw a cartoon about Soini's relationship with these far-right politicians, the setting would be a concentration camp in World War 2 with some infamous commandants like Rudolf Hoess and Franz Ziereis, hiding behind the PS leader.
Soini would state with a poker face: "Anti-Semitism isn't an issue in our party."