A Finnish police officer in Turku was fined by a court to pay 5,140 euros in charges and lawyer's fees, according to tabloid Ilta-Sanomat. The police officer, who admitted being too drunk to remember what he said and denied being aggressive at a taxi line, called a woman who attempted to him a "refugee-loving whore" and slapped her twice on the face. 
The police officer reacted in an aggressive manner after seven non-white Finns entered a minibus taxi without waiting in line for a normal taxi.
"Thanks to women like you," he said admitting later that he was a police officer, "blood flows on Turku's streets and [didn't you know] that migrants commit 95% of all crimes?"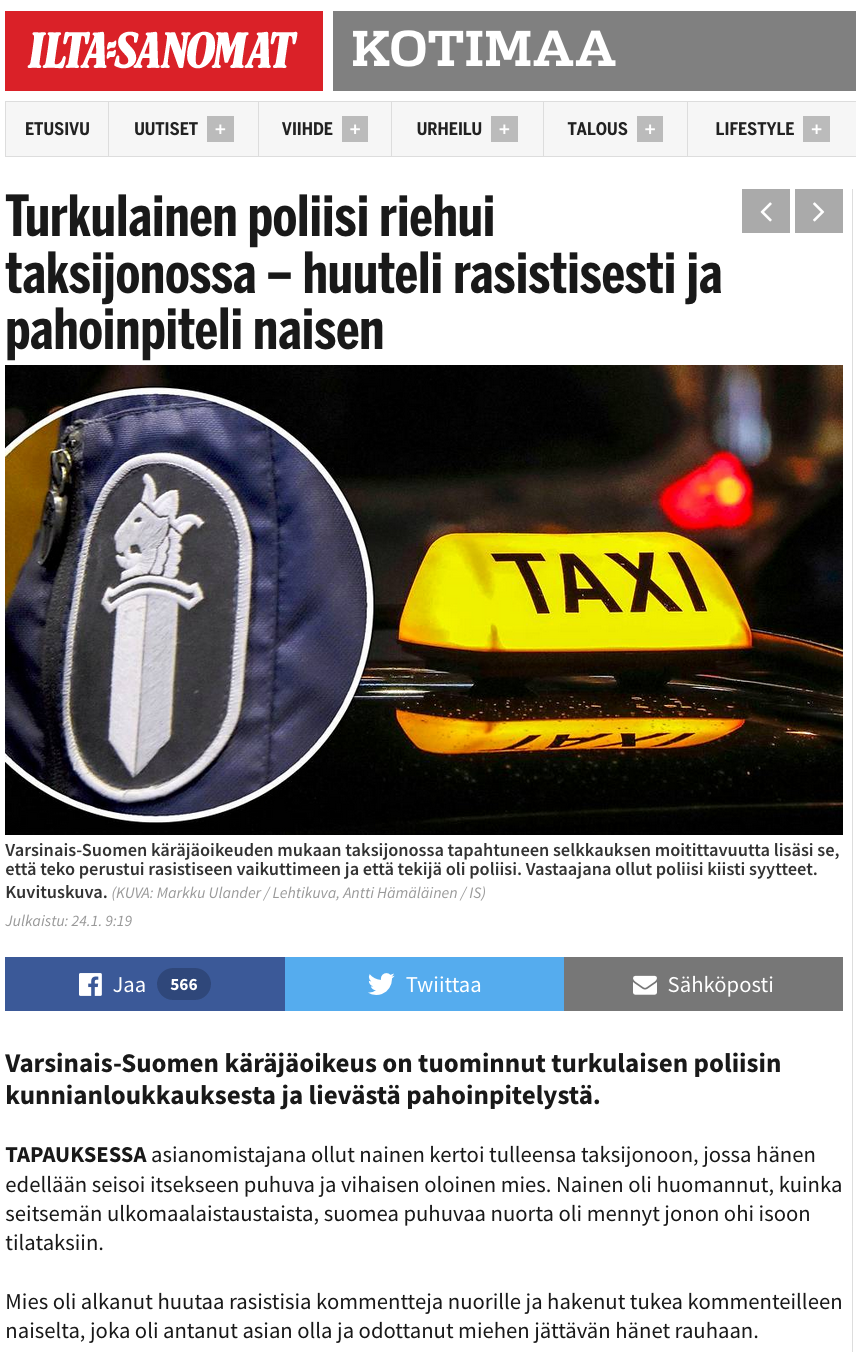 Read the full story (in Finnish)

here

.
---
The police officer slapped the woman on the face a second time when she said she would file charges against him.
Even if the police officer was drunk, his behavior shows the racism continues to reveal that racism is an issue in the Finnish police service.
A survey published in 2016, showed that 25.1% of 2,489 policemen surveyed voted for the conservative National Coalition Party (Kokoomus) and 24.4% for the Islamophobic Perussuomalaiset (PS)* party. Long Play, an investigative online website, revealed in June 2017, a secret Facebook group consisted of mostly police officers and which made racist statements about Muslims, minorities and migrants.
National Police Commissioner Seppo Kolehmainen tweeted in February that racism has no place in the Finnish police service.  He announced the following steps to tackle racism in the police service. These included a new equality and diversity plan approved in June 2017; an "ethical channel" where police can anonymously report racism; and mandatory social media training for the police to reinforce rules of good conduct, among other measures.