The ongoing passionate debate in parliament on same-sex marriage reveals, in my opinion, something we've known all along about Finland: How we accept and respect people who are different from us. Alongside the present debate on gay marriage is another one being contested in public about our ever-growing cultural diversity.
A draft law to legalize gay marriage in Finland was defeated in February 2013 by a vote of 9-8 by the legal committee of parliament.
Finland is still the only Nordic country that doesn't recognize same-sex marriages.
After that dramatic vote in the legal committee last year, a lot of matters have happened. A citizen's initiative got over 166,000 signatures. A citizen's initiative gets 50,000 signatures in six months it must be put to a vote in parliament.
If we look at an A-Studio poll that was published Thursday, it shouldn't surprise us that the same political parties that oppose gay marriage are against cultural diversity.
Which parties oppose gay marriage? It shouldn't surprise us that at the head of the list is the anti-EU, anti-immigration and especially anti-Islam Perussuomalaiset (PS) party followed by smaller ones like the Christian Democrats.  The Center Party and National Coalition Party, are still split on the new law.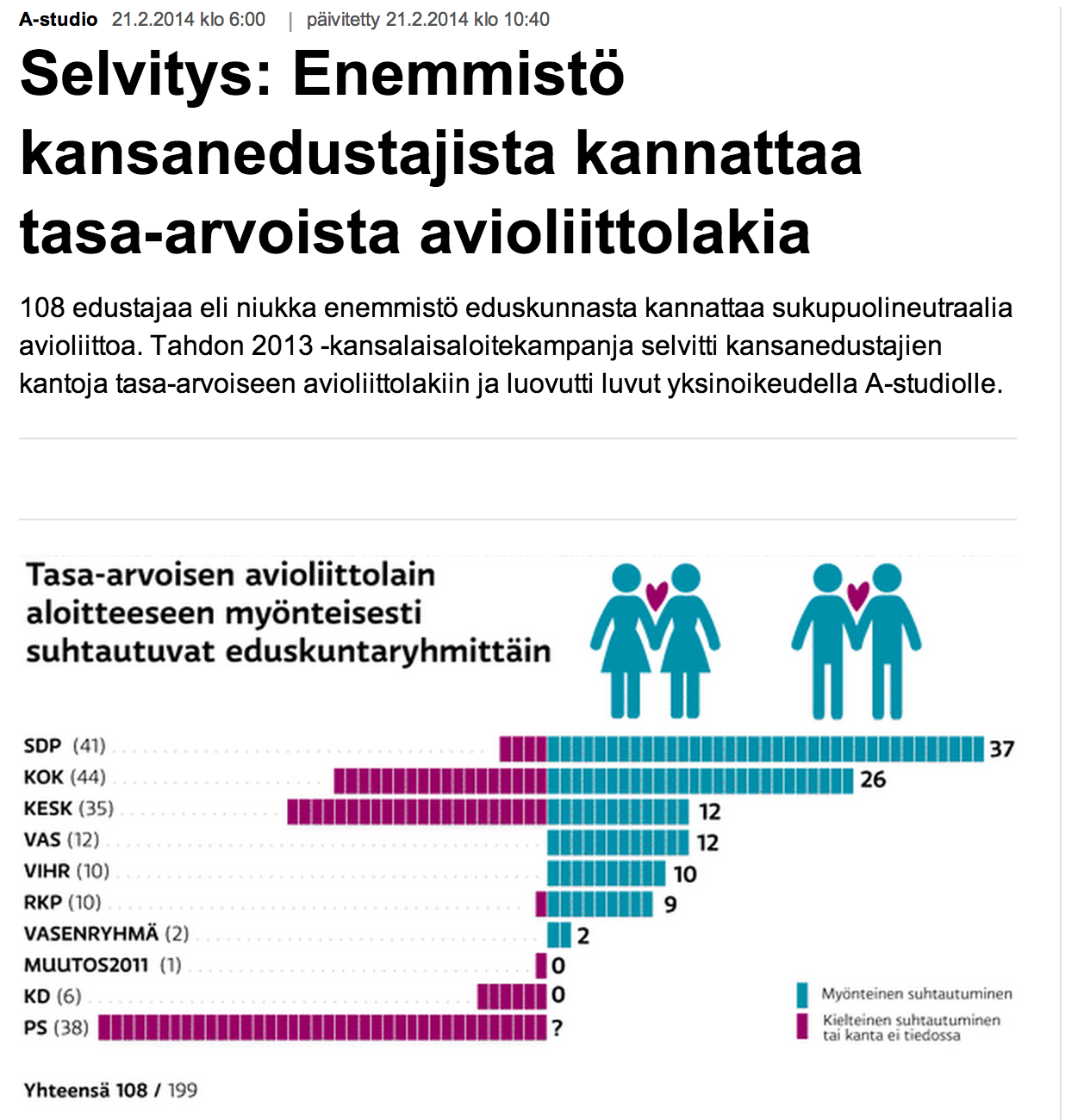 A poll by A-Studio shows that 108 out of 199 MPs support the same-sex marriage initiative. Read full story here.
One could rightfully ask why is legalizing gay marriage important for Finland. The answer to this question is clear because there is a direct relationship with the ongoing debate on our ever-growing cultural diversity and how minorities should be accepted and respected in this country.
Finland has always been culturally diverse, according to Professor Jeremy Gould of Jyväskylä University.
"Culture is always diverse – people everywhere have different tastes, beliefs, habits, and values," he told Migrant Tales. "This has been true of Finland for centuries. For me the so-called 'debate about multiculturalism' is a code word for racism in our society. Finland is already culturally diverse. The issue is that people of color don't receive the respect and recognition they deserve as human beings."
In the same way, the debate on granting gays the right to marriage is a code word for homophobia.
The same parties that aren't ready to give gays the right to marriage are those that are doing everything possible to sabotage and deny our cultural diversity. Spearheading this campaign is none other than the PS.
When the new law is passed, not only will gays benefit from it but other minorities in our society. It will lead and fuel the long-overdue recognition and respect due to all minorities living in Finland.
That is why a lot rides on the passage of the gay marriage law.