An earlier story, which claimed that a Perussuomalaiset (PS) Lieksa town council leader doesn't want to be in the same room where a Somali group meets once a month, has been corrected by Karjalainen, a Joensuu-based daily. It is not the PS town council leader, Esko Saastamoninen, making such a demand but the PS councilpersons of Lieksa. 
Lieksa's town secretary confirmed to tabloid Iltalehti Tuesday that the PS councilpersons will get a new meeting room.
What did I just read?! Yes, right, Lieksa's town secretary caved in to PS' demands for a "clean room" where Somalis don't meet once a month.
It's difficult to weigh what is more offensive: The PS town councilmen's demand or the town secretary's compliance.
Saastamoinen wanted a clean room because he said that Somalis are carriers of different types of diseases and therefore the PS town councilmen didn't want to meet in the same room as they.
Abdirahim Hussein, a Center Party politician who was born in Somalia, demanded that Saastamoinen should resign from his post as the PS' town council head, according to Suomenmaa.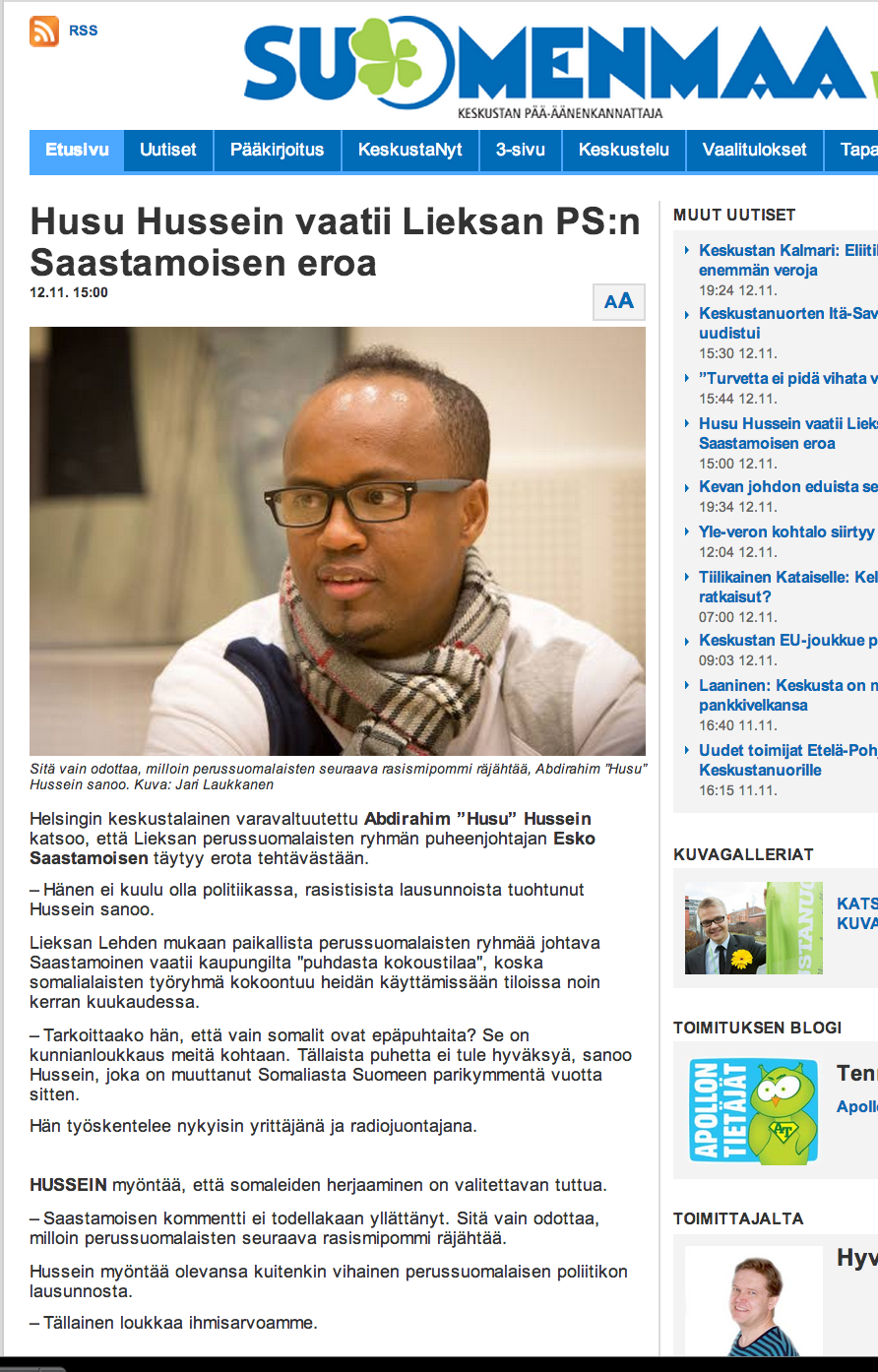 Read full story (in Finnish) here.
"He shouldn't be in politics," he said. "Does he mean that Somalis aren't clean? It is a defamation against us. These types of statements shouldn't be acceptable."
They are unacceptable and they should have no place in our society. Racists use a number of arguments to drive home their arguments. One of these is that immigrants carry different types of diseases.
The PS are the third-largest party in the Lieksa town council with eight councilpersons after the Social Democrats and Center Party. The anti-immigration and anti-EU party gained in Lieksa 22.5% of the votes in the 2012 municipal election, which is a 16.1% rise from 2008.