By Julian Abagond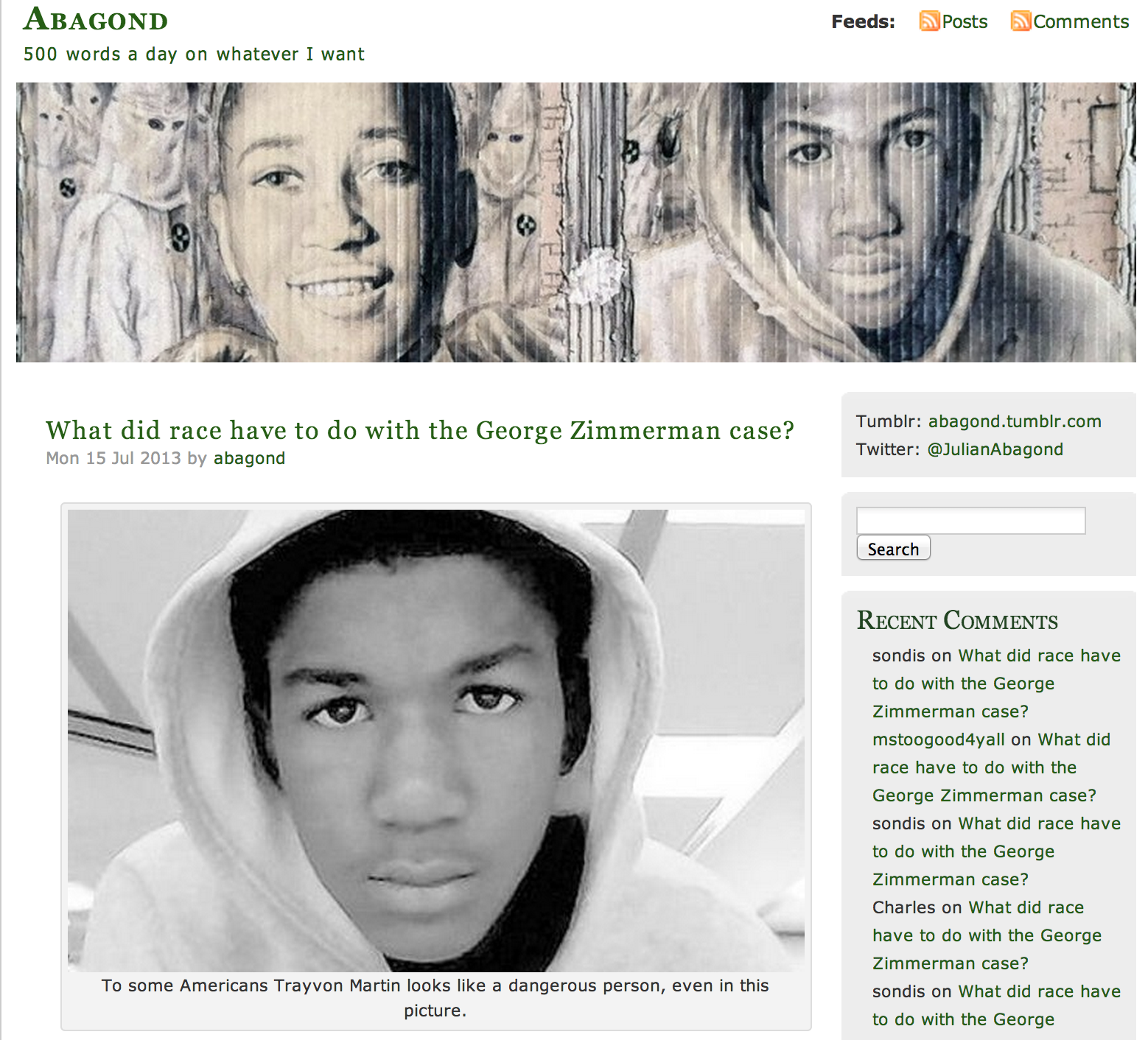 What did race have to do with the George Zimmerman case in America?George Zimmerman, a half-white, half-Latino man who gets a bloody nose and a few scratches on his head, shoots dead Trayvon Martin, an unarmed, 17-year-old black boy, calls it self-defence and is found "not guilty" of both murder and manslaughter by a nearly all-white court. How could that possibly be racist? I mean, it is not like Zimmerman used the N-word. It was a fair trial! Besides, the president is black!
Here are some ways:
Black life was assumed not to matter much. In effect, a bloody nose and a few scratches on the head of a man who is half-white mattered more than the life of a 17-year-old black boy. It was not just Zimmerman who thought that, so did the police, who did not think the killing was a big deal. So did the prosecution, who pretty much just went through the motions – they did not even properly prepare their witnesses.
The Black Brute stereotype – the idea that black men rape and kill for no reason, that they have "violent tendencies", "criminal propensities", as if huge numbers of them are savage psychopaths or something. It is why white women clutch their purses, why whites cross the street – because, apparently, black men only tug at purses gently, cannot cross the street and never go after those who show fear. This stereotype ran throughout the case:

Zimmerman racially profiled Martin. As a neighbourhood watchman, Zimmerman only reported black males as "suspicious". Martin was one of them, even though it was only seven at night and he was minding his own business walking back from 7-Eleven. It was not like Martin was breaking into a house or a car or beating up someone.
The police assumed Martin was the bad guy. Instead of giving Zimmerman a drug test and holding him for 48 hours while they sorted out what took place, the police let him go to work the next day! They believed his story just on his say-so – in part because it fit the Black Brute stereotype perfectly: some black guy jumped out at him in the dark and tried to kill him. For no reason. Because, apparently, black men are like mad dogs.
The prosecution lawyers never seriously questioned the main hole in Zimmerman's story: Why in the world would Trayvon Martin want to kill George Zimmerman? Martin did not know Zimmerman. Zimmerman says he did not threaten him. Martin had no record of violence or insanity. The Black Brute stereotype is the spit holding this story together.
The defence lawyers painted Martin as a dangerous thug, based not on a police record or record of violence, but on how he looked! How was that possible?
The jury was packed with white women. We do not know what their thinking was. Maybe they were not racist at all. But the defence certainly assumed they were, playing on their purse-clutching fears of black men!
Read original story here.
This piece was reprinted by Migrant Tales with permission.