Helsinki substitute councilman Olli Sademies of the anti-immigration Perussuomalaiset (PS)* party stated on Facebook that Finland should carry out forced sterilization of new African refugees that move to the country, reports Helsingin Sanomat.  Such a racist statement by a member of the PS is nothing new. A PS politician wrote in 2013 that groups like African refugees, which are prone to commit rape according to him, should be chemically castrated.
Writes Sademies: "When Africans arrive as 'refugees' to Finland, they continue to reproduce at the same rate [as in their home countries] even if they would do with less children. In order to force [high birth rates] to plummet we should limit the amount of children immigrants can have. Three [children] would be the maximum."
While such statements are outrageous and reinforce that the PS is a hostile party to immigrants, minorities and to our ever-growing culturally diverse society, it's the reaction of the party secretary, Riikka Slunga-Poutsalo, which is even more incredible.
She told Helsingin Sanomat that they have asked Sademies to clarify his statements.
Clarify his statements!? Why not sack him?
It's obvious that Sademies is an example of the racism that has openly taken root in this country thanks to near-silent acceptance. Such intolerance has has caused a lot of damage to Finland's reputation abroad and at home.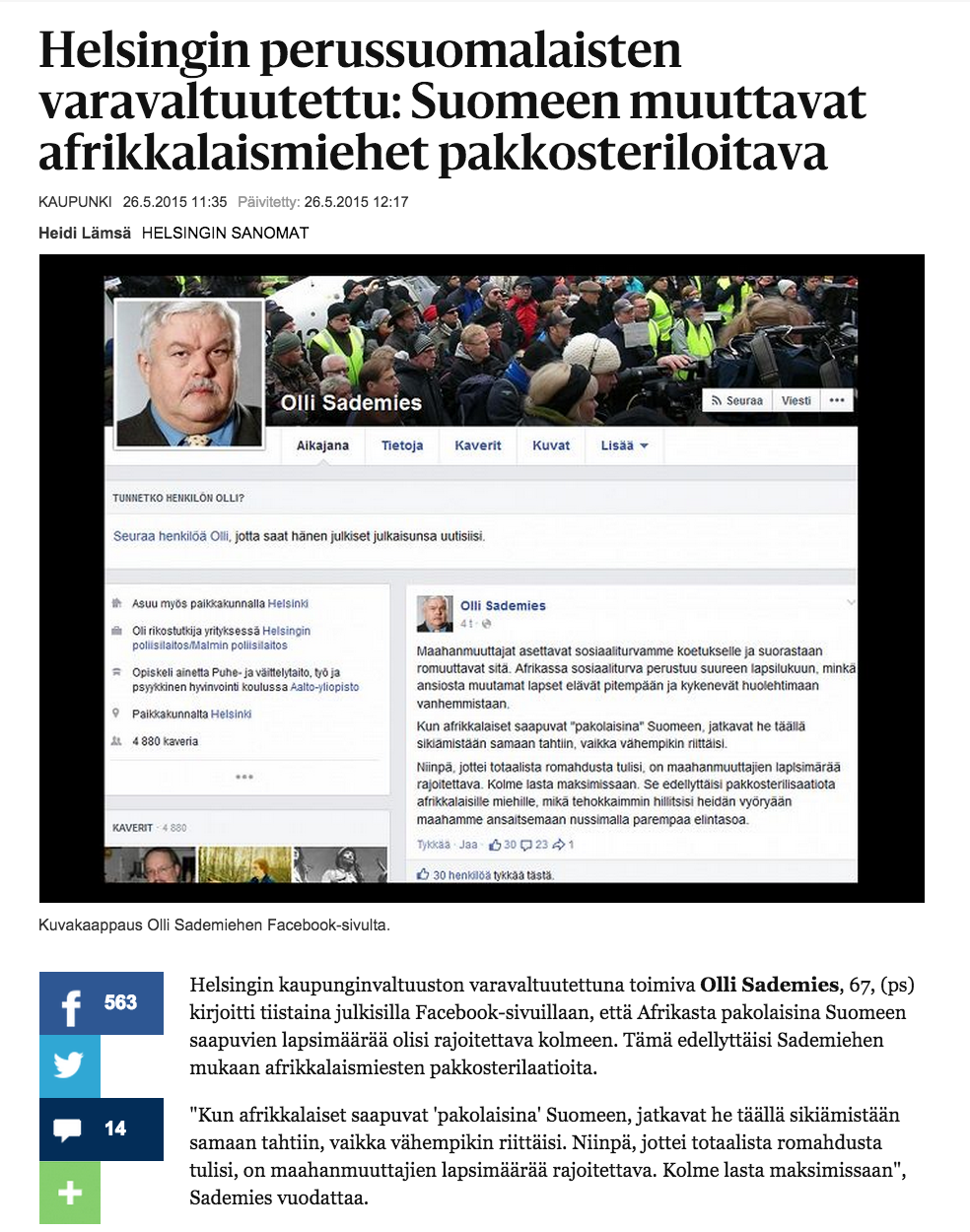 Read full story (in Finnish) here.
UPDATE (May 26 at 4pm): Migrant Tales got a call from a black reader who overheard at work a white Finnish woman and man speaking about Sademies' comment and Africans. Both spoke as if they didn't care if the black person could overhear their conversation.
The woman said: "Africans rape women in Africa."
The man responded: "Yes, they're animals. It's a good matter that somebody [like Sademies] wants these these people to be sterilized by force."
UPDATE (May 26 at 6:10PM): PS party secretary Riikka Poutsalo-Slunga tweets below that Sademies' statements are his own and not of the party's.
* The Finnish name of the Finns Party is the Perussuomalaiset (PS). The English names adopted by the PS, like True Finns or Finns Party, promote in our opinion nativist nationalism and xenophobia. We therefore prefer to use the Finnish name of the party on our postings.