If one wants to start a humorous blog in Finland, just check out the headlines that dailies use sometimes to write about immigrants and refugees. True, some of them aren't funny at all because they are hostile and ostracize specific groups.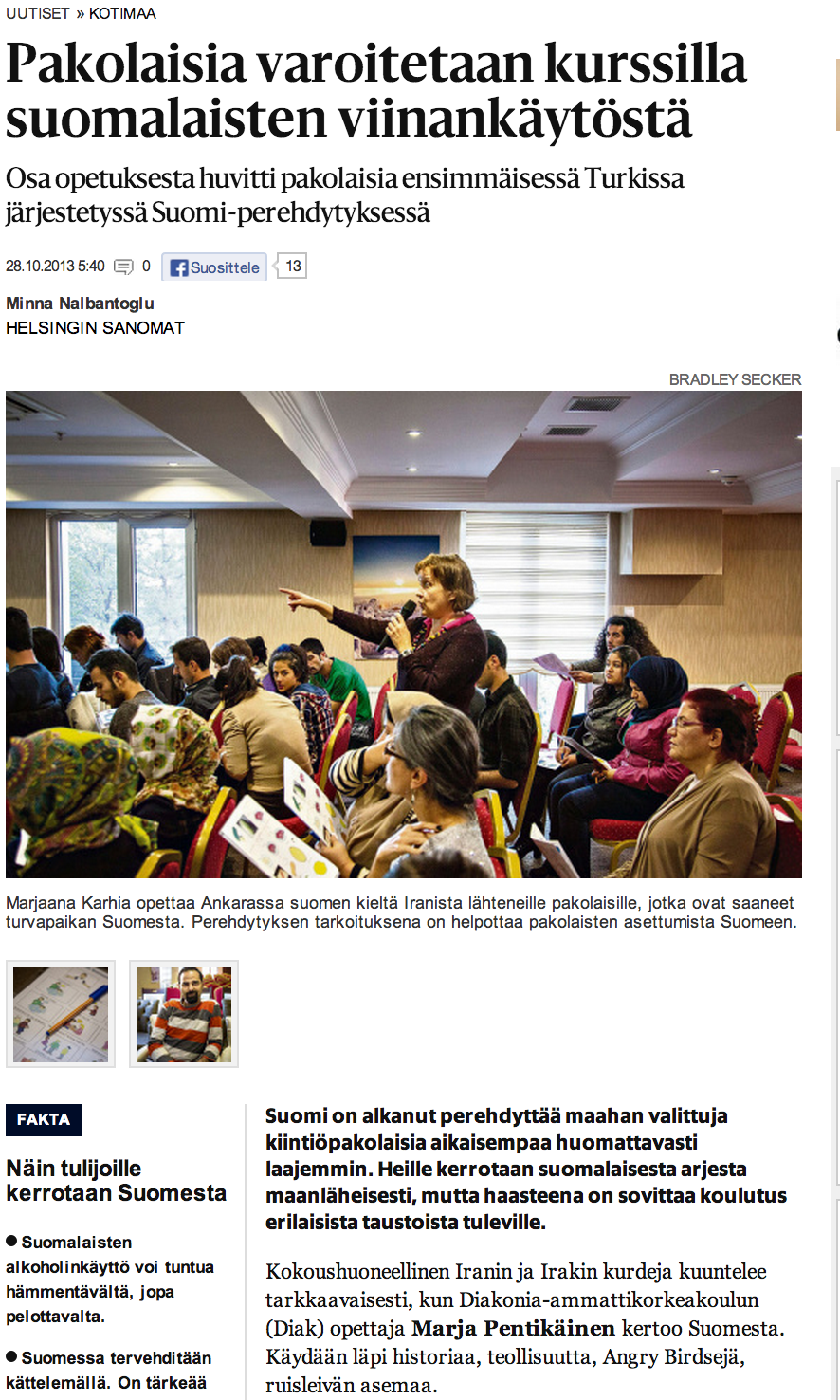 Read full story here.
Here's one headline I read on Monday's Helsingin Sanomat: "[Syrian] Refugees [that will move to Finland] are warned about the Finns' use of alcohol."
Fair enough, but the following sentence in the lead surprised me the most: "Finland has started to familiarize itself more than ever before about quota refugees [that move here]."
Hasn't this been done before? Does this mean that Finland is now starting to familiarize itself with those quote refugees that move here? Strange statement, no?
While it is a positive matter that values such as gender and social equality are taught to newcomers and that they play an important role in our society, are these refugees taught that Finland respects cultural diversity? Are they told about the important role that mutual acceptance and respect play in our society?
Do the teachers speak of our ever-growing cultural diversity or is the Finland they teach them only white?
One matter bothered me about the article and reinforced my worst suspicions when the teacher assumed that the people didn't know how to use a toilet bowl.
Possibly the authorities organizing these types of courses could to a little bit of homework to familiarize themselves with the group they are teaching. 
Instead of speaking of alcohol usage, Angry birds, rye bread and how Finns like silence, which are important, can one generalize about a culture in that way?When I speak to immigrants about Finland and Finns I use the word some Finns as opposed to everyone.
Did the orienteering course about Finland tell the refugees about the rise of xenophobia in this country and the role that the Perussuomalaiset (PS) party has had in strengthening prejudices and racism especially against Muslims?
Migrant Tales wishes these refugees the best of success and happiness in their new home country.