At present, there are several things that are giving Finland a bad name: Islamophobia, the hostile environment, and hardline asylum policy.
The latest setback to Finland's image was handed down by the European Court of Human Rights for violating Article 2 and 3 of the European Convention on Human Rights.
Article 2 states that everyone has a right to life, while Article 3 of the Convention prohibits torture and inhumane treatment.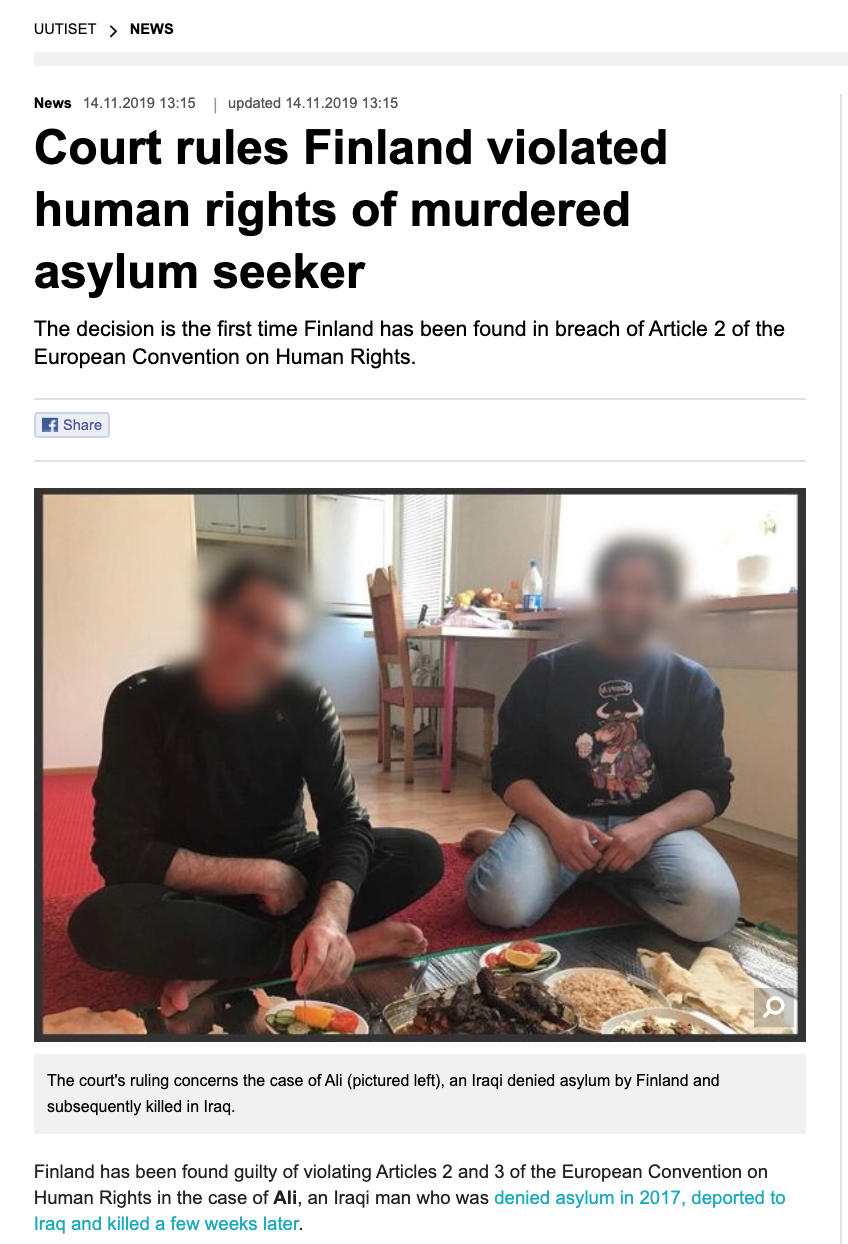 While the ruling reinforces what anti-racism activists have been saying for a long time about the Finnish Immigration Service (Migri), we must not forget that Finland's immigration policy has a long history of committing human rights violations.
We could begin with some recent examples of repatriated Iraqi asylum seekers who were killed. Migrant Tales documented two cases as well as other ones.
Let's not forget that the former government of Prime Minister Juha Sipilä gave the political support to Migri to declare some of the most violent countries like Somalia, Afghanistan, and Iraq as "safe countries" to deport asylum seekers.
When an asylum seeker is killed on his return, Finnish politicians like former Minister of Interior Kai Mykkänen offer "sad-and-tragic" consolation in the same empty way like politicians in the United States offer "thoughts and prayers" after a home-grown terrorist kills innocent people.
Some cases that remain as permanent dark spots in Finnish immigration history is the deportation of Ingrians and Estonians after the Continuation War (1941-44) and Soviet citizens during the Cold War.
Our past immigration policy continues to bring shame to us. It is unfortunate that we always return to it.
*A direct translation of Perussuomalaiset in English would be something like "basic" or "fundamental Finn." Official translations of the Finnish name of the party, such as Finns Party or True Finns, promote in our opinion nativist nationalism and racism. We, therefore, at Migrant Tales prefer to use in our postings the Finnish name of the party once and after that the acronym PS.