Perussuomalaiset (PS) chairman, Timo Soini, said on BBC's HARDTalk that the five-year ordeal that lead to a Supreme Court ruling against PS MP Jussi Halla-aho for inciting ethnic hatred was enough punishment, according to YLE. Soini had promised previously to sack any member of the party if they were sentenced by a court for hate speech.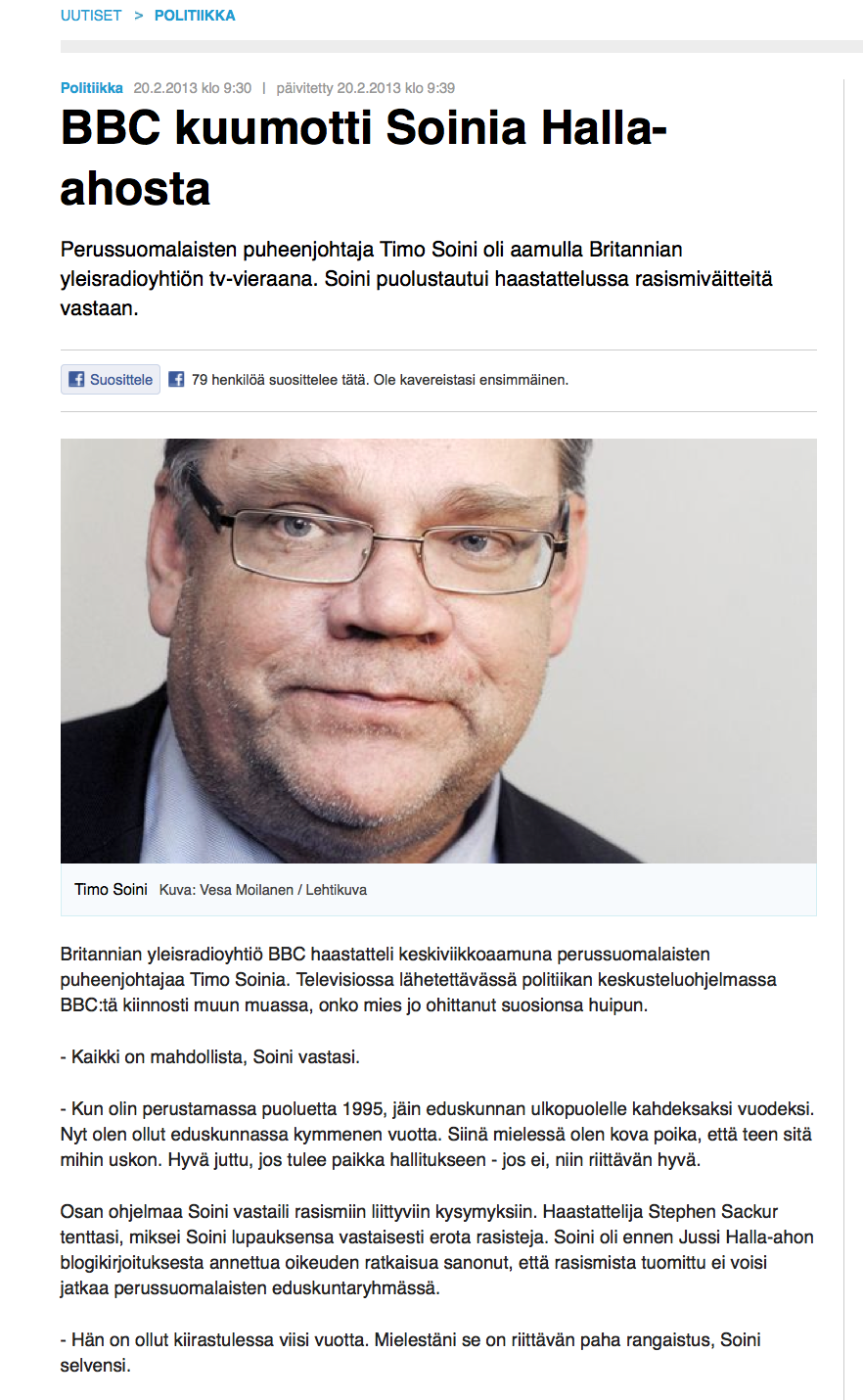 "He's been in purgatory for five years," Soini said of Halla-aho. "In my opinion it's hard-enough punishment."
Certainly Soini doesn't want to get rid of Halla-aho because that would be costly for the party. Since the PS MP was voted to parliament thanks to hate speech, he can now move to phase two: put into action his plans, which include spreading suspicion and making life as difficult as possible for immigrants in Finland.
The BBC asked if Soini believed he had passed the peak of his popularity.
"Everything is possible," he said.  "I've been in parliament for ten years. In that respect, I'm a pretty tough guy because I do what I believe in."
According to YLE, Soini was asked about the Slovak National Party, which belongs, like the PS, to the xenophobic and right-wing populist Europe of Freedom & Democracy group in the European Parliament. It's leader, Jan Slota, stated that "The Hungarians are a cancer in the body of the Slovak nation" and that the only homosexual he'd accept is one in the closet.
In Soini's usual style, he didn't answer the question.  He said that when the party won the election in 2011, the Swedish media had called the PS leader "the plague."
"How does that stand for Swedish values?" he said.
The HARDTalk show can only be viewed in the U.K.
On the BBC website, it introduces Soini in the following manner:  writes:  "Europe's prolonged economic crisis has prompted a populist backlash against the powers that be. In Finland, the EU's prosperous northern outpost, the big beneficiary has been Timo Soini, leader of the Eurosceptic, nationalist party long known as the True Finns. He wants to see the Eurozone dismantled, immigration curbed, traditional values restored. Critics have labelled the party xenophobic – is this the angry politics of European disintegration?"
Here's another interview that Soini gave to CNBC on Finland's membership in the European Union.