We are concerned about the ever-oppressive immigration policy of Finland towards asylum seekers who are undocumented. We believe that the Finnish Immigration Service (Migri) and the police service plan to deport many Iraqis and other refugees this year who have two rejections for asylum.  This job of rounding up and detaining asylum seekers and putting them in immigration removal centers like Metsälä in Helsinki is being carried out by Migri and the police service. It has the blessings of Prime Minister Juha Sipilä's government.
---
Do deportations deter asylum seekers?
Finland has deported about 20,000 people to countries like Iraq and Afghanistan since 2011. Source: Yle.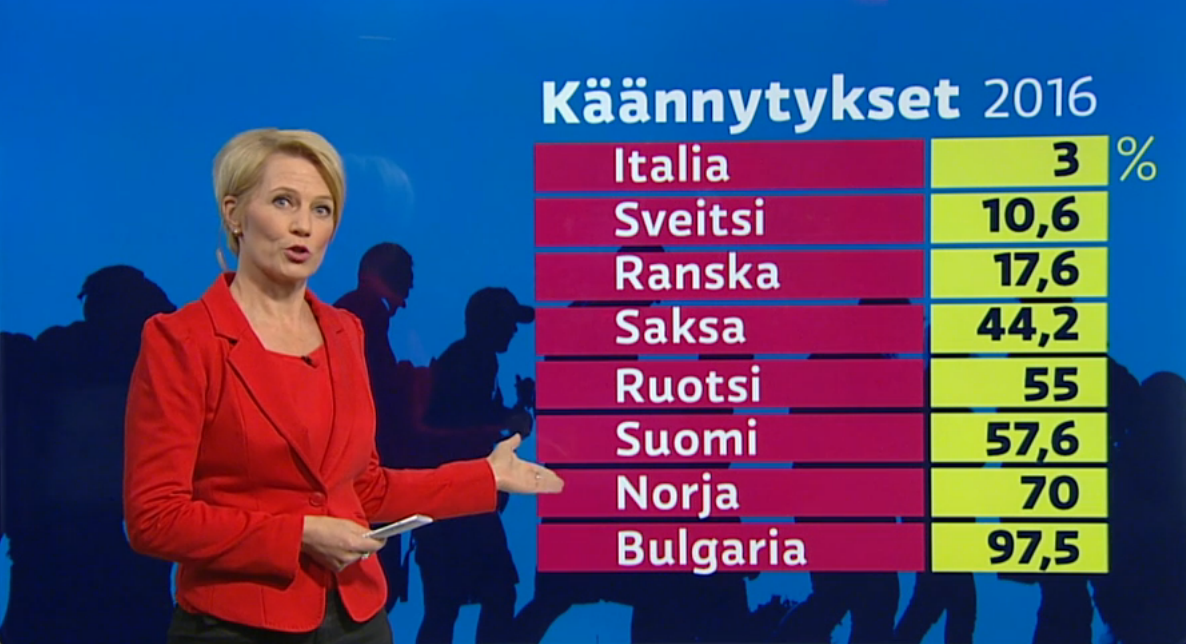 Percentage of people that are deported after their request for asylum is turned down. Source:

Yle

.
---
Ninety  civil society organizations that attended the European Migration Forum on March 2-3 put out the following statement that question plans by the EU Commission to speed up and detain asylum seekers. They fear that the new measures will cause more harm and suffering. The joint statement reads:
"There is no evidence that immigration detention or forced removal has a deterrent effect, or is sustainable. Detention and forced returns are extremely harmful practices that have long-lasting severe physical and mental health impacts as well as high risks of suicide. Re-emigration rates among returnees are high and forced removal has not been shown to lower the migration aspirations of the communities where people are returned to."
Since these vulnerable people aren't supposed to have a name, Migrant Tales started to publish from January 2017 a list of people who are detained, deported or released by the police service. We depend on tip-offs by the public at large to update our list, which can alert different NGOs, human rights activists and the media about the people that Finland plans to deport this year.
If you know of any asylum seeker that was detained by the police service and who is going to be deported, please get in touch with us at [email protected]
لو علمت بان احد طالبي اللجوء في فنلندا يتم احتجازه بغرض الترحيل القسري , الرجاء اعلامنا على [email protected]
---
Stories published by Migrant Tales on the above-mentioned deportation cases
*Since the person is an asylum seeker and since we are concerned about his or her safety, Migrant Tales does not publish the real name of these victims. We have, however, some of their real names in our possession.