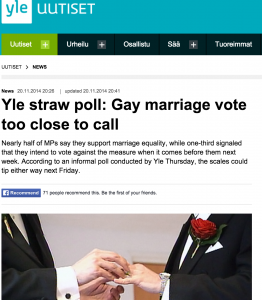 Homophobic Finland? Thank the Perussuomalaiset
Some weren't too worried when the Perussuomalaiset (PS)* won their historic parliamentary election victory in 2011 by raising the number of MPs to 39 from 5. "They'll implode like the Rural Party did in the 1970s," and "This is only a passing [political] fad" was what one heard.  One matter is clear after almost four […]
more…
Systemic disenfranchisement of migrants and minorities in Europe
One important question that doesn't appear to bother too many politicians is why migrant voter turnout in Europe is so low. In the 2012 municipal elections of Finland, 20% of eligible migrants voted compared with 18.6% in 2008. This is a far cry from 59.5% and 62.2% of Finnish citizens that voted in such elections, […]
more…
Do you think David Cameron should be given 'a medal' for immigration?
Finnish Prime Minister Alexsander Stubb continues to surprise us. This time he proposed giving the UK, or Prime Minister David Cameron, 'a medal' for immigration. Taking into account how Cameron sees himself threatened by the UKIP and how he's caved in to anti-immigration and anti-EU rhetoric, the distinction proposed by Stubb is odd to say the […]
more…
Defining white Finnish privilege #14: Losing sight of the real issue
One of the matters that has always surprised me in Finland is that if you speak out against intolerance and racism, you are sometimes seen as the rude one, not the one making the inappropriate comment. Apart from playing down a social ill like intolerance, we too often lose sight of the real issue: the victim.  There […]
more…
Lieksa, Finland: Parents don't want their children to be driven to school by Somali taxi drivers
Leiksa, a far-flung town in eastern Finland, has attracted a lot of bad publicity in recent years from Perussuomalaiset (PS)* councilmen who demanded a 'Somali-free' meeting room to a migrant taxi driver that was assaulted recently,  is once again in the news for all the wrong reasons. A group of parents from the town of 12,000 inhabitants don't want their children to […]
more…
Anonymous migrant: Known – unknown
Migrant Tales' insight: Anonymous is one of the many readers that not only visit our blog but contribute their stories and poems. I'm not at liberty to disclose her identity but can vouch for her story. We have been in touch countless of times on the phone and she has told me her six-year ordeal in Finland […]
more…
Migrant Tales (July 3, 2014): Is 'Heikki the drunk' Finnish or Swedish?
Migrants' Tales insight: This story is interesting when looking at the Fazer gigolo tv commercial in Finland, which reinforces stereotypes about certain migrants and minorities in this country. An all-white board of the Council of Ethics in Advertising, which gets all of its funding from the private sector, will have a difficult time understanding what […]
more…
Response to Fazer's gigolo says a lot about Finland today
The decision by the Council of Ethics in Advertising of Finland that there was nothing wrong with Fazer's gigolo television commercial says a lot about why there is so little respect towards minorities in this country. For those who lived in Finland in the 1970s, Fazer's gigolo was the typical stereotype of the southern European […]
more…