The CIA + torture = death of our values
An interesting spin that the media has echoed about the CIA's torture program on Tuesday is that all these terrible things happened recently. They neither happened recently nor involved "some folks" as President Barack Obama pointed out, but have been going on for decades.  Wake up USAmerica. The Guardian writes: There are stories in the CIA […]
more…
Jallow Momodou: Invisible 'visible' minority on the European political agenda
Jallow Momodou* 'Numbers count' is a statement we often hear, especially when speaking of democratic weight and power as a means to influence a group's socio-economic conditions. So far, however, people of African descent and Black European are the most invisible 'visible' minority on the European political agenda. This despite the fact that there are […]
more…
New World Finn: Bye for now
To part is to die a little to die to what we love .* Edmond Haracourt (1856-1941)   The first time I heard the phrase by the French, "to part is to die a little," was in Finland a long time ago during one of those unforgettable summers, when I used to visit my grandparents in Eastern […]
more…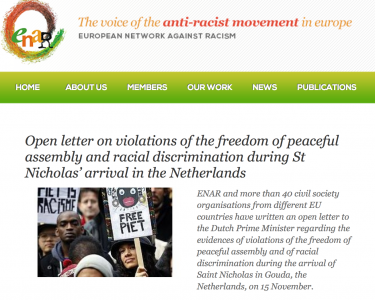 ENAR*: Open letter to Mark Rutte, Prime Minister of The Netherlands , Ivo Opstelten , Ministry for Security and Justice and Fred Teeven , State Secretary for Security and Justice
 Brussels, 24 November 2014 Dear Prime Minister, Dear Ministers, We, the undersigned, are writing to express our concern regarding the conduct of Dutch authorities and law enforcement officials on the day of the 'arrival' of Saint Nicholas in Gouda, the Netherlands on 15 November 2014. First hand evidences show clear violations of the freedom of […]
more…
Hate crimes in 2013 are up by 13.9% in Finland but who cares?
Suspected hate crimes in 2013 rose by 13.9% to 833 cases compared with 732 in the previous year, according to the Police College of Finland. While one suspected hate crime is too many, how should we interpret these figures? What do they reflect? Do they reveal that there are high or low hate crime levels […]
more…
Migrants' Rights Network: David Cameron's EU migration speech – what impact on migrants' rights?
Ruth Grove-White* Today's (28.11) speech from the Prime Minister has made a pitch for a new tough approach on EU migrant access to welfare, but it has taken us further away from the evidence-based debate on immigration that we need. Read full story here. David Cameron's speech on EU migration, delivered earlier Friday, was […]
more…
Same-sex marriage bill approved by Finnish parliament
Parliament has approved 105-92 a bill that will pave the way for same-sex marriage, according to YLE in English. The vote in favor of same-sex marriage is the first-ever citizens' initiative that has been approved by the Eduskunta, or parliament. The vote was a big setback for Timo Soini and the Perussuomalasiet (PS)* party, which had spent a lot of political […]
more…
Same-sex marriage bill vote Friday will be a cliff hanger
Finland will vote Friday on the long-overdue bill that would make marriage legal between same-sex couples. A lot rides on tomorrow's vote. In many respects, the outcome of Friday's vote shows Finland to be at an important crossroads. Some analysts see the passage of the same-sex marriage bill not only as a victory for gays but for […]
more…