Who spreads hatred in Finland: YLE or the PS?
Attempting to gain the maximum political mileage from the act of vandalism against the Perussuomalaiset (PS)* office in Helsinki on Thursday, party secretary, Riikka Slunga-Poutsalo, is pointing the finger at the "green-left alliance" (a favorite catchword that the party uses to describe its enemies) and YLE for comparing it to the anti-immigration far-right Sweden Democrats. […]
more…
PS claims it has sacked all of its racists and fascists from the party (sic!)
Matti Putkonen said at a press conference Friday that comparing the Perussuomalaiset (PS)* to the anti-immigration Sweden Democrats was spreading hatred against the party. He went as far as to suggest that the attack against its office in Helsinki had something to do with such stories, reports tabloid Ilta-Sanomat.  Putkonen, who was convicted for rape about […]
more…
New dissertation about migrants sheds light on our ignorance and prejudices
Two news stories published this week highlight in my opinion why intolerance continues to dominate debate in these parts. The latest story published by YLE was about a dissertation by Annukka Muurin, which showed that multicultural, or third-culture Finns, speak Finnish better than their parents' language.  Isn't this a pretty obvious finding if the child […]
more…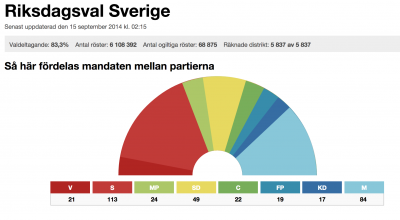 Will the Sweden Democrat victory give a boost to the PS in Finland?
The Swedish election result not only showed a shift and set for a minority-left government, but historic gains made by the far-right Sweden Democrats. Conservative Moderat Prime Minister Fredrik Reinfeldt, who conceded defeat late Sunday, said he will hand in his resignation Monday after eight years in power. Just like the anti-immigration Peerussuomalaiset (PS)* in […]
more…
High time for Western self-scrutiny about our Muslim community
I made in the late-1970s one of the most important decisions of my life. Back then Argentina was ruled by one of the region's bloodiest dictatorships. Human rights violations, torture and state-sponsored terrorism were the rule. You had three choices: take up arms and join a guerrilla group, shut up or leave the country. Wali Hashi […]
more…